Finding suppliers for your business can be a lengthy process. With so many crystal wholesalers available in the market these days, how can you tell which wholesaler to register with?
Earth Crystals has been providing quality crystals and quality service to our customers for over 15 years. We have built solid relationships and trust with our local and international partners and have access to stunning crystals from around the world.
With our extensive range and extensive crystal knowledge, Earth Crystals can supply you with amazing products and service.
Who should consider registering?
We have many clients across a vast range of industries, so most crystal relevant businesses are invited to register. If you are just starting out your crystal business or have a market stall you are welcome to register. If you have a corporate office or interior design business that requires feature crystals or if you require crystals for a movie set you are welcome to register. Crystal or new age shops online, retail stores, healers, therapists, readers, wellness clinics, day spas, retreats, beauticians, artists, jewellers, jewellery and clothing designers are just some of the types of customers we have. If you are unsure if your business can be registered, please contact in store to discuss.
How do I register?
Registration is easy. You can register via our website or come in store. To register online, please follow this link http://www.earthcrystals.com.au/register-for-wholesale/ and fill in your details. Your details will then be sent to our team. If all of your details are in order we can process your registraion straight away. If we have any questions, we will contact you via phone or email to discuss. If you have a sole trader business with just your name as your business name, we will call to discuss what type of business you have. Or please feel free to send us an email once you have registered with this information so we can process your registration promptly.
We understand that setting up a business takes time. If you have an ABN, please provide details on your registration.
What happens next?
Once your registration has been approved, you will receive a welcome email which outlines all the information you need to know about purchasing crystals wholesale. You will also have access to our website where you can log in and see our entire range of crystals and prices.
How can I order?
You can place your order via our website, over the phone, via video call (FaceTime, Messenger etc) or you are welcome to visit our showroom on the Gold Coast. There is a minimum spend of $200+gst with each order.
Ordering via the website
Placing your order online is simple. Log into your account, click on the crystal type in the menu to the left or type in the crystal name in 'search'. Click through until you find your preferred item. With some items there are dropdown menus to specify size or style. For items that are sold by weight, a number 1 will automatically show in the quantity section. This can be adjusted once it has been added to your cart. Alternatively, there is a comment section 'additional notes' just before submitting your order where you can write your specifications for size, amount, quantities etc.
We do not take payment via our website. Once your order has been placed, our team will select the order and contact you to discuss any specific sizing requirements or questions, you will be given a freight quote plus an invoice total and your order can then be processed.
Freight is calculated on the final weight of your order and can be sent via Australia Post, Border Express or StarTrack.
What are the payment options?
We have a variety of payment options available. These include eftpos, cash, Afterpay, PayPal and direct deposit. These options are available for all in store and online orders.
What is Super Discounts?
Once your registration has been approved, you are invited to join our Facebook group that is exclusively for our wholesale customers. Each week we release super discount offers that can be added to your order or purchased separately without doing the minimum order.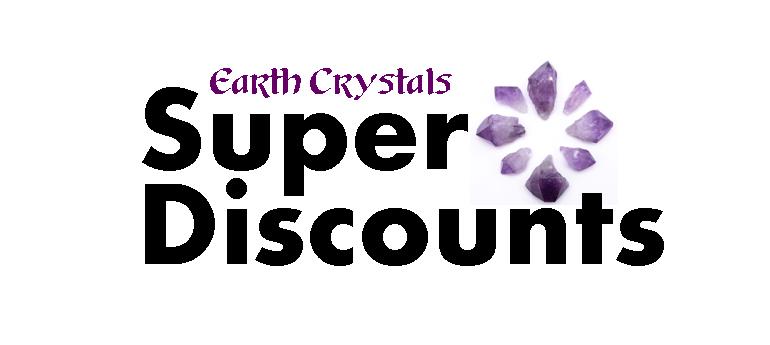 Throughout our many years in business, we have seen crystal trends come and go. So, our experienced staff can advise you on popular crystals that work well in different market and retail environments.
We are always happy to help. If you have any questions regarding the registration process or purchasing crystals, please contact our friendly team to discuss how Earth Crystals can help your business in 2020 and beyond.
Phone: (07) 5568 0891
Email: info@earthcrystals.com.au
1/475 Scottsdale Drive, Varsity Lakes, Qld 4227